Cheshire South Circuit – Audlem Mission Area
(Minister: Rev Robin Fox. Tel: 01270 812820 email: minister@audlemmethodistchurch.org.uk)
Newsletter for Audlem, Hankelow & Hatherton Methodist Churches
For the week commencing 6th December 2020 Second Sunday in Advent

Dear friends
Every year we hear that Advent is a time of waiting. This year, the whole year seems to have been a time of waiting, waiting for so many things, a vaccine, goods in the shops which we once took for granted, and perhaps hardest of all, waiting to see our loved ones again. In a very real sense, we know that Advent is a time of waiting, we have spent most of the year waiting for one thing or another.
Yet Advent is also a time of hope. This Sunday, we open our church doors again after lockdown 2, and with the news of 3 vaccines looking like being 90% effective, there is a very real hope on the horizon. Not that everything will suddenly be bright and beautiful again, it will cause further problems as it solves others, but it does look like being a real way forward.
Hope is not just wishful thinking. It is based on something that offers a genuine glimmer of hope in the darkest night. This month is the month in which the nights are at their darkest and longest. Yet the Christmas lights will still shine in our streets even if many of the usual Christmas celebrations cannot take place in the usual way. As we see them, perhaps we will hear those very familiar words from the carol "Yet in thy dark streets shineth the everlasting light"
So in this time of waiting, as we look back on our hopes and fears from this past year, may we know the Advent hope and the promise of the Light of the world in our darkest times.
With love in Jesus
Robin
Audlem Methodist Church re-opens for socially distanced services from today, Sunday 6th December. Sunday morning services will commence at 11.30am so that there is no clash with the Zoom services which continue at 10.30am. Robin will lead the first service.
Numbers will be limited to accommodate social distancing so booking a place is essential, and the booking system will remain in place for the foreseeable future. All spaces have been booked for the first service, however please contact Fran to book for each Sunday.
Please book your place by midday each Friday. To book, contact Fran Hughes either by email to bookaseat@audlemmethodistchurch.co.uk or phone 01270 812038.
Please also note:
Masks are to be worn in the church at all times.
There will be no congregational singing.
After the service (duration approx 40mins) people must leave – no coffee/chat.
Social distancing maintained throughout.

From Tom Hassall; The Train of Life
At first we board the train of life and meet our parents, whom we believe will always travel by our side. However, at some station they depart leaving us to travel on alone.
As time goes by other significant people climb aboard, such as siblings, friends, children, husband or wife etc.
Many later get off and leave a permanent vacuum where others depart who we don't even notice.
Our ride is invariably full of joy, sorrow, fantasy, expectation, hello's and farewells.
Success consists of having a good working relationship with our fellow passengers which requires us to give the best we can at all times.
We don't know at which station we ourselves will depart however, so make sure that when your seat is vacated you leave behind only beautiful memories for those still travelling on.
I Never Found the Time – From Peter Webb
I knelt to pray but not for long I had too much to do,
Must hurry off and get to work for bills would soon be due,
And as I said a hurried prayer jumped up from off my knees,
My Christian duty now was done My soul could be at ease.
All through the day I had no time to speak a word of cheer
No time to speak of Christ to friends They'd laugh at me I feared
No time – no time, too much to do that was my constant cry
No time to give to those in need At last it was time to die,
And when before the Lord I came, I stood with downcast eyes,
Within His hand he held a book, It was the Book of Life
He looked in the Book and said Your name I cannot find,
I once was going to write it down but never found the time.
WELCOME BACK to SUNDAY WORSHIP ON BBC TV. Many of us appreciated these half hour broadcasts during the first lockdown, with their thoughtful words, inspirational settings, and singing from old recordings of 'Songs of Praise'. So it is good to report that a new series is being broadcast for Advent, on Sunday mornings on BBC1 at around 11.30am, though time varies, and available also afterwards on iPlayer. From Christina
Sarah Parton Notelets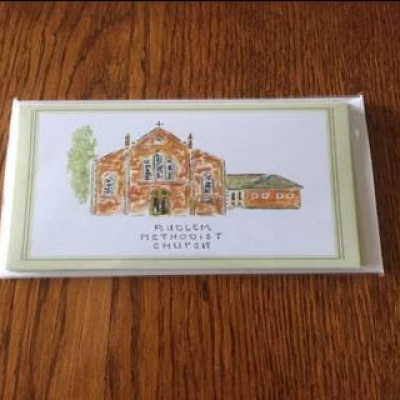 Sarah Parton has designed these cards to sell for chapel funds. They are blank cards and come in a pack of 5. Price per pack £5 or 2 packs for £9. Available from Julia, phone 01270 811761 or 07950 774997
From Loren: "Hello everyone, as some of you may remember, I sent a message a couple of newsletters ago asking for donations towards my haircut for The Little Princess Trust. I am sad to say that it has been postponed due to the current lockdown, but at least that means my hair can grow a little bit longer and I can donate more of it! On a more positive note, I have surpassed my original fundraising goal and the total raised is currently sitting at £319! (£160 of which came from your generous donations!)
I would like to express my sincerest gratitude to all those who donated to help me reach my goal!" Thank you so much! I hope you have a lovely weekend.
Salvation Army Christmas Appeal/Annual Toy Service 2020
Usually at this time we are asked for gifts for the Salvation Army to distribute to those less fortunate. This year, due to the situation they have made significant changes to ensure the safety of their volunteers, whilst recognising that the needs within the community have not gone away.
As they have been advised that any donations of toys etc would have to be quarantined for 48 hours , the Salvation Army have taken the decision to ask that those of us who wish, to give a financial donation rather than actual gifts. This will enable support to be provided in a COVID secure way.
Should you wish to make a cash donation please transfer it to
Bank: Reliance Bank
Sort Code: 60-01-73
Account No: 00178123
Account Name: SATCO General Income
Payment Ref: CR01/11000/GP1-TS
If there are any items or notes you would like to be included in the next newsletter please either telephone Janet Furber on 01270 811598 or send by email to r.furber@btinternet.com
Cheshire South Methodist Circuit – Part Time Book-keeper
Cheshire South Methodist Circuit is looking for someone (on a contractor basis) to act as bookkeeper. The Circuit Treasurer takes overall responsibility and will work closely with the person fulfilling this role and it involves looking after the day to day book-keeping for a large Methodist Circuit and a community-based cafe project in Crewe. Support and guidance will also be available from the Circuit Lay Co-ordinator.
It will involve:
entering financial data into an online accounting system (Xero) and utilising a cloud based document management system (currently Dropbox)
managing online bank accounts.
liaising with Ministerial and lay worker staff for pay and expenses purposes
liaising with and paying cafe suppliers.
working with up to 30 churches managing their assessments due to the Circuit.
paying property bills and managing utility suppliers
liaising with property management company on payment of maintenance invoices and rentals
helping prepare basic reports
keeping paperwork ad electronic files in a managed and well-organised system, within Methodist GDPR Requirements
The role would suit someone with experience of accounts and looking for a home based, part time & flexible hours arrangement (around 10 hours per week) who has worked with Xero before (or an equivalent accounts package) who is accurate and able to keep a few plates spinning at once. We are looking for someone sympathetic to the aims of the Methodist Church.
Please put in an expression of interest by the 15th of December by email to garycliffe@gmail.com Tel: 07799837030